Top Racing crankshafts for oldtimer mopeds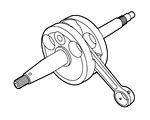 Are you specifically looking for Top Racing crankshafts? Then we have a wide range available for you at JMPB Parts. It is not without reason that we have many Top Racing parts in stock. This Portuguese manufacturer of moped parts is known for its high quality and wide range of parts for classic mopeds.

Sachs and Top Racing
In our webshop you can easily order a new crankshaft online. You get a top quality crankshaft for less than 40 euros. Lovers of oldtimer mopeds often choose the Top Racing crankshafts. This Portuguese brand has made a name for itself as a supplier of high-quality crankshafts and engine parts with an excellent fit and easy mounting. Thanks to the 360 view, you immediately have a good picture of each product, which helps you make the right choice.

Handy parts
In addition to crankshafts, you will also find all kinds of additional parts such as a Top Racing connecting rod, seals, bearings and handy tools such as a bearing puller. And as you are used to from us, everything is available from stock. So you never have to wait long to get your new parts! So order your new moped parts at JMPB today. We have the best quality and competitive prices for years.