Puch – Shock absorbers – Puch Maxi, Monza & more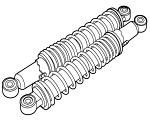 Buy Shock absorbers of all lengths in chrome and black for each Puch Maxi, MV, Monza and several other Puch mopeds. P> Read More
Buy Shock absorbers of all lengths in chrome and black for each Puch Maxi, MV, Monza and several other Puch mopeds. P>
Improve comfort or get more sporty
Shock absorbers largely determine the behaviour of a moped. Worn or damaged shock absorbers reduce driving comfort and may even be unsafe on the road. They should preferably be replaced as soon as possible. There are other reasons to replace the shock absorbers of your Puch. For example, in order to realize a different height, in order to improve the comfort or to just to get a more sporty moped.
Shock absorbers from 280MM up to 360MM
For replacement or tuning purposes, you will always find in JMPB webshop the appropriate shocks, ranging from 280mm to 360mm. The least are, moreover, the real Puch Maxi enthusiast because they are extremely high. To simplify mounting the shock absorbers they are delivered with buses to 8mm. Do you prefer a comfortable shock absorber? The choice of a shock absorber is often a personal choice. If you do not know which shock absorbers best fit your moped or driving than we can provide you with the right advice!