Puch – Buddyseats & Seats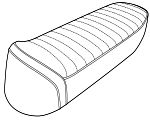 Of course it is important to keep your Puch moped in good technical condition. At the same time it is equally important that your moped rides comfortably and has if desired an original as possible look. The buddyseats and saddles of Puch play an important role. P> Read More
Of course it is important to keep your Puch moped in good technical condition. At the same time it is equally important that your moped rides comfortably and has if desired an original as possible look. The buddyseats and saddles of Puch play an important role. P>
Buddyseats for comfort
Excessive use of the rider and weather conditions such as rain and UV radiation affects the quality of a seat. The outer material may crack causing the filling to break and the comfort suffers. At the same time a worn seat affects the appearance of your moped. Fortunately, there is good news because at JMPB parts we have a large stock Buddyseats and Seats for many models Puch, including Puch Maxi, MV, MS or Monza.
Seats with "Puch" prints
You can choose between different versions. There are the original Puch Maxi seats in white and black. These are available in a high and low version with the imprint 'Puch' on the back. An excellent choice if you want to keep the vehicle original. For a different look, you can choose the buddyseat or chopper saddle. These are also available white or black. Finally, we sell at JMPB Bategu seats for Puch MV and MS as well as all necessary mounting parts.