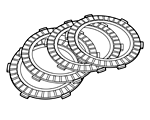 Do you have problems with the clutch of your Zundapp? Is it due for replacement or are you looking for separate parts for the clutch? At JMPB Parts we have everything in stock. From complete clutch housings, with straight toothing, to springs and gaskets. P> Read More
Do you have problems with the clutch of your Zundapp? Is it due for replacement or are you looking for separate parts for the clutch? At JMPB Parts we have everything in stock. From complete clutch housings, with straight toothing, to springs and gaskets. P>
Everything for the clutch of your moped
The Clutch of each moped is a typical part that at a given moment needs to be replaced or at least checked. Through years of use, the clutch wears and eventually this can be noticed by performance loss. Replacing clutch plates is perhaps the most common job that you care yourself, but replacing a complete clutch or a small part is also a task for the handy Zundapp owner.
From clutch plate to pressure pen
In the webshop of JMPB Parts you can order all parts for your clutch online. These are clutch plates, but also clutch housings, ground plates and all related items such as a pressure pen, lever spring, clutch spring and all types of bearings. For speed enthusiasts we can also supply a clutch housing with straight teeth. The benefits of system? More power and a higher top speed!