All gaskets for your Zundapp moped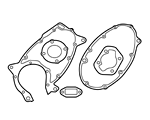 The head gasket is the sensitive part of every engine, also from Zundapp moped engines. Because when it goes wrong with the head gasket, the damage is often huge, with a jammer as a result of overheating to the most extreme result. Fortunately, it does not have to go there. P> Read More
The head gasket is the sensitive part of every engine, also from Zundapp moped engines. Because when it goes wrong with the head gasket, the damage is often huge, with a jammer as a result of overheating to the most extreme result. Fortunately, it does not have to go there. P>
Head gaskets, 50CC, 70CC, 80CC and 125CC
Problems with the head gasket are usually announced in advance, with the well-known white smoke from the exhaust (in water-cooled blocks). And that gives the handy Zundapp owner the opportunity to replace the head gasket of his Zundapp in time. At JMPB Parts we have all head gaskets in stock for classic Zundapp mopeds, from 50cc, 70cc, 80cc and 125cc. And for the KS80 we have different sizes in stock for you.
All Zundapp gaskets and related products
In our webshop you will also find all other gaskets and sealing rings used by Zundapp, including intake gaskets, clutch cover gaskets, crankcase gaskets, O-rings and gasket paper. You can also order complete gasket sets, as well as all kinds of handy products that make removing and assembling the gasket easy.
It should be clear: JMPB Parts is the parts specialist of the Netherlands for classic mopeds. Can't find something? Let us know!