Mounting parts Puch Maxi | MV | VS | Complete bolt sets & more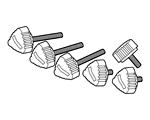 The correct mounting parts are indispensable for lovers of classic and modern Puch mopeds. In our webshop you will find also all possible parts. P> Read More
The correct mounting parts are indispensable for lovers of classic and modern Puch mopeds. In our webshop you will find also all possible parts. P>
Buy handy mounting parts that may not be missing in any workshop. At JMPB Parts you can order this easily online:
Nuts and bolts (galvanized and stainless steel)
screws
Hoses
Hose clamps
Securing rings
Washers
Copper rings
Assortment sets
Grommets
Caps
Cable ties
etc.
The wide range of mounting parts that you can buy for your Puch you can't find anywhere else. We are proud that we can not only offer excellent prices for these products, but that everything is in stock. You do not quickly miss when you buy your moped parts in our shop!
JMPB has in recent years built a name when it comes to Moped parts. Lovers throughout the Netherlands and Europe know where to find us and order their parts online. Experience our affordable quality and excellent service from our experienced staff.