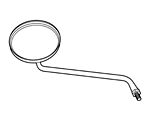 Good moped mirrors are not only for your safety, they also determine the appearance of your moped. At JMPB Parts you will find side mirrors for mopeds of all years. So not only for the cherished oldtimers but also for modern mopeds. P> Read More
Good moped mirrors are not only for your safety, they also determine the appearance of your moped. At JMPB Parts you will find side mirrors for mopeds of all years. So not only for the cherished oldtimers but also for modern mopeds. P>
Stylish mirrors for mopeds from al years
Especially when you are looking for the stylish side mirrors for mopeds from the 60s and 70s, you have a wide choice in our webshop. You can view the mirrors online and order them quick. Just like all other moped parts in the JMPB Parts webshop, our rear-view mirrors are also of first-class quality. For oldtimer mopeds you will find dozens of mirrors in different versions at JMPB. These include leg shield mirrors, insert mirrors, with clamp fastening and mirrors with M8 thread. In addition, the side mirrors are available in a round, rectangular or drop shape.
Busch & Müller mirrors, German perfection
Here you will find universal mirrors for your moped, including from BUMM or Busch & Müller. These guarantee German perfection and quality. Our goal is to offer as many original parts as possible for the best price. When this is not possible, we offer a similar aftermarket alternative. JMPB has been the parts specialist for moped enthusiasts for years now!